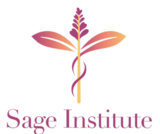 Sage Institute is hiring a Development Director!
WHO WE ARE: Sage Institute is a non-profit that provides high-quality training, accessible psychedelic therapy at our sliding-scale clinic, and innovative research, fostering effective and culturally-responsive mental health treatment for underserved communities in Oakland and the surrounding Bay Area. We imagine a world where people from all backgrounds have access to cutting-edge, affordable, and holistic health care that supports healing of the body, mind, spirit, community and environment.
The resurgence of research on psychedelic medicines in the last decade has provided unprecedented support for the effectiveness of psychedelic psychotherapy. Sage Institute offers therapy services in this burgeoning field, integrating psychedelic-assisted therapies into our offerings as they become legal. We train practitioners in a cutting edge model of ketamine assisted therapy from a depth psychological, trauma-informed, and social justice approach.
POSITION OVERVIEW: The Development Director holds all matters related to strategic fund development in alignment with the mission, values, and vision of the organization. Under the direction of the Executive Director and in collaboration with the Fund Development Committee of the Board of Directors, the Development Director will be responsible for planning, organizing, and directing all of Sage Institute's fundraising including the major gifts program, annual fund, planned giving, grants and contracts, special events, and capital campaigns.
DUTIES AND RESPONSIBILITIES:
Priorities:
Develop & implement fundraising strategy
Work with ED & Board of Directors to develop agency fundraising strategy
Implement fundraising plan
Grow major gifts program
Identify, solicit, and cultivate major donors
Maintain relationships with donors on a continual basis
Develop and maintain donor database
Ensure that all entries are up-to-date and regular contact with donors is made
Maintain donor relations
Serve as primary contact with donors
Outreach to new potential donors
Send regular newsletters & other ongoing communications
Develop & update fundraising materials as needed
Create solicitation materials for fundraising efforts
Support with creation of publications to support fundraising activities
Develop & implement corporate sponsorship program
Develop sponsorship program
Outreach to potential corporate sponsors
Cultivate and maintain relationships with sponsors
Plan & implement fundraising events and initiatives
Organize and manage small and large-scale fundraising events
Recruit and train fundraising staff and volunteers as needed
Plan, implement, and evaluate fundraising campaigns and activities
Manage our annual fund, including mailings and annual fundraising drives
Ongoing Responsibilities
Stay informed on top fundraising trends and strategies in the nonprofit sector
Present at Board of Directors meetings when requested by the Board
Other special projects as assigned by the leadership team
Create and develop goals and metrics for reporting
Long Term focus:
Build planned giving program with a focus on deferred gifts such as bequest expectations
Develop grants program:
Oversee grant-seeking including research, proposal writing and reporting for government, corporate and foundation grants
Maintain a grant writing "plan of action" that outlines upcoming potential funding sources and deadlines,
Maintain a grant database outlining awarded, pending and denied grants & contracts
KEY OUTCOMES:
Create and implement a fundraising plan within 30 days of start date.
Raise a minimum of $500,000 per year.
Generate and maintain relationships with at least 25 different core individual donors, and 5 corporate and or foundation donors within the first year
Send a monthly newsletter keeping donors up to date
Coordinate at least 1 major annual fundraising event, and 4 smaller events for key donors
COMPETENCIES:
Excellent influencing/negotiating skills and oral and written communication
Strong networking skills
Promotes integrity and accountability for self and others
Collaborative approach and attitude
Embraces diversity
Strong problem solving and conflict resolution skills
Strategic thinker and visionary
Possesses awareness and motivation towards mission, values, and vision of agency
Adaptable and open to change as needed, and adjusts rapidly to new situations
Strong writing skills
QUALIFICATIONS:
Bachelor Degree
2-4 years minimum of progressive fund development related experience
Proficiency in google suite related web applications
HOURS & COMPENSATION:
Part-time employee or contractor
$3600/month retainer, negotiable based on experience and qualifications
Potential for timely salary re-evaluation based on performance
PHYSICAL REQUIREMENTS: The position requires occasional sitting, standing, walking and driving. Frequent use of computer and phone. Lifting is required occasionally, of no more than 20 lbs. at a time. The position requires the ability to see, hear and speak.
ENVIRONMENTAL/WORKING CONDITIONS: The work is performed in an office environment or remotely in the community. Travel may be required as assigned by leadership. Adherence to any specific safety policies regarding COVID-19 is required.
EQUIPMENT USED: Computer, keyboard, telephone, printers, copy machines.
TO APPLY: Send resume, cover letter, and 2 references to noah(at)maieranderson.com.
Job Types: Part-time, Contract
Pay: From $3,600.00 per month
Schedule:
Education:
Experience:
Development: 3 years (Preferred)
Work Location:
Hours per week:
Company's website:
Work Remotely:
Temporarily due to COVID-19
COVID-19 Precaution(s):
Remote interview process
Personal protective equipment provided or required
Social distancing guidelines in place
Virtual meetings
Sanitizing, disinfecting, or cleaning procedures in place